ZinZang Studio offers design, printing, and Post Office delivery as part of the Every Door Direct Mail® (EDDM) service as established by the U.S. Post Office. You tell us your target area (by city, neighborhood, or specified distance from your location), the quantity, and what you would like to say, and we can provide you with high-quality, professional, and attractively designed mail pieces delivered* directly to the local Post Office(s).
"I receive numerous EDDM cards of all sizes and shapes at my house. I am of the opinion that the thought and care that went into the development of mine/ours makes it stand out above the crowd because the calls we receive, tend to more quality patients and less of the "bargain chasers"."
Dr. Bruce Lockhart, DDS
Get your message directly to your target customers
Attract Customers to a grand opening, open houses, or the opening of a new location
Special Offers or "neighborhood only" discounts — value and appreciate your local customers
Event Announcements like holiday promotions, special events, and participation in community events
Publicize your support and sponsorship of local community activities and events
Highlight a new product or service, and stand apart from your competitors
Save money, Save time, & Get results
There are a variety of mail piece sizes we can offer, so your message will have plenty of room. You can send up to 5,000 mail pieces per day (per Post Office) to residential (only), or residential and business addresses, along a specified route. You no longer have to worry about purchasing a postage permit, creating and maintaining mailing lists of local neighborhoods and addresses, or even printing mailing labels.
Some of the Local Virginia Post Offices that ZinZang Studio delivers to
Barhamsville
Charles City
Gloucester
Jamestown
Lanexa
Lightfoot
Monticello
New Kent
Newport News
Norge
Providence Forge
Quinton
Toano
Virginia Beach
West Point
Williamsburg
---
If you don't see your Post Office location listed, don't worry, we can still design, print your mail pieces, and supply you with your EDDM documentation to deliver to the Post Office. We are happy to assist you with your marketing strategy, route administration paperwork, and how to submit your mail pieces to your local Post Office(s).
Delivery to the Post Offices
Counted post office bundles with their facing slips ready to be delivered to the appropriate postal location.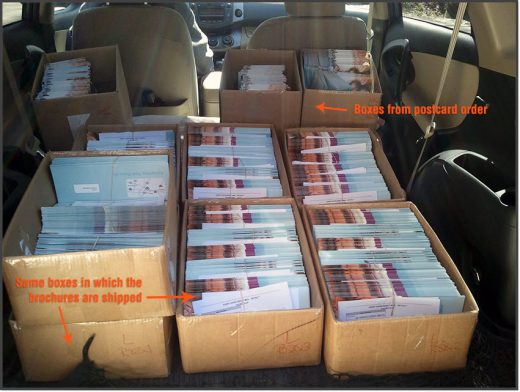 ---
Eligible EDDM Mail Piece Sizes
6.5″ x 11″
6.5″ x 9″
8.5″ x 7.5″
8.5″ x 7″
8.5″ x 11″ (over-sized postcard with no folds)
8.5″ x 14″
4.25″ x 12″
9″ x 12″
11″x 17″
---
Pricing Estimate Examples
General printing specs for below examples: 2 sided, full color, 14pt gloss cover paper stock, with UV coating. The prices below include only one design revision. Please note the pricing below is an estimate only and is subject to change (this includes USPS postage pricing). For the most accurate pricing, please contact us.
| | Mail Piece Size | Quantity | Design, Printing, Shipping, USPS Drop off & Estimated Postage Price |
| --- | --- | --- | --- |
| Ex. #1A | 6.5" x 9" | 1,000 | $1,043 |
| Ex. #1B | 6.5" x 9" | 5,000 | $2,025 |
| Ex. #2A | 8.5" x 11" | 1,000 | $1,143 |
| Ex. #2B | 8.5" x 11" | 5,000 | $2,175 |
If you would like more details, or have questions, please contact us via our contact form or by phone, 804-557-0017.