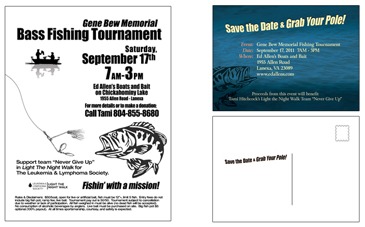 We love to design and we love to support worthy causes, this is why ZinZang Studio does Pro Bono work.  Pro Bono work is typically defined as work done "for the common good", and is undertaken voluntarily usually without payment.
Applying this term to the field of professional graphic design work, allows us to passionately provide our services to those who are unable to afford them, and/or to support a worthy cause/charity at the same time.
Recently we have had the opportunity to combine both our love of design and the promotion of a worthy cause for the Gene Bew 1st Memorial Fishing Tournament on Chickahominy Lake and provide support for team "Never Give Up" in the Light The Night Walk™ for the Leukemia & Lymphoma Society (LLS).  We had the pleasure of designing the event flyers, and postcard reminders for the event.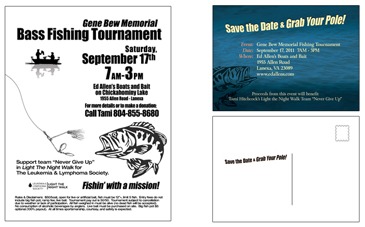 Feedback
"Thank you for the help with the post cards for the tournament, you guys are the best!" — Tami Bew, Event Coordinator